July 27, 2015
Home
Podcasts
Taking a Law Practice or Business from Nothing to Something Great with Lenise Williams [GWL 24]
Taking a Law Practice or Business from Nothing to Something Great with Lenise Williams [GWL 24]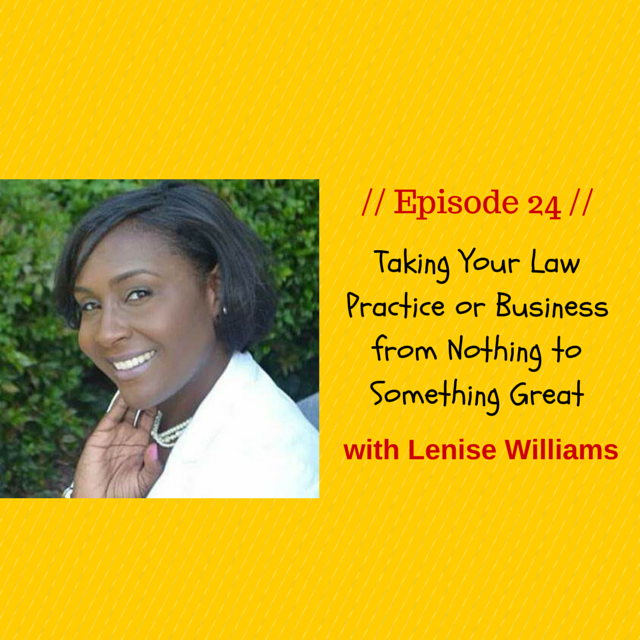 Podcast: Play in new window | Download | Embed
Subscribe: Apple Podcasts | Android | RSS
Don't forget to join our community newsletter! Sign up here.
Lenise is a business attorney/legal consultant in Atlanta, Georgia, and she is a brand and leadership strategist, working with entrepreneurs and small businesses to help them build longevity in their businesses. From fearing public speaking to booking gigs as a branding and leadership speaker, Lenise has built up a successful law practice and various businesses that make her excited to wake up every day.
Important Stuff We Talk About in this Episode:
Don't let your practice area make you unhappy for longer than it needs to
How to attract clients when first starting off without having all your ducks in a row just yet
Although free work doesn't sound appealing, sometimes you gotta do it
How to get over your fear of public speaking
Never get too comfortable in a business or risk becoming stagnant
Branding is a buzzword! What is it and why is it important for young lawyers
How young lawyers can discover their mission and message
Why Periscope, Twitter's livestreaming app, has stolen my heart (and is crucial to building your business)
How social media can actually help you attract clients and business
Recommended Reading:
Paolo Coelho  – The Alchemist
 (affiliate link*)
Action Item:
Just do it! Don't wait for things to be perfect to take action.
Contact Information:
Instagram: mompreneur_esq
Twitter and Facebook: mompreneuresq
Thanks for Checking Out the Show Notes and for Listening!
I really hope you enjoyed this episode. It was certainly a great experience for me.
If you feel like you just can't keep the excitement you feel for this episode to yourself, please share it using the social media buttons you see at the bottom of the post.
Also, please don't forget to subscribe to the GWL Podcast in iTunes or in Stitcher Radio. That way, every time I prepare a new episode for you, it'll automatically show up in your phone.  No Fear Of Missing Out here.
Once last thing: I would truly appreciate it if you could leave an honest review for The Gen Why Lawyer Podcast in iTunes. Positive ratings and reviews help boost the visibility of the show and help me in reaching more young lawyers.
*Disclosure:  Please note that the link above is an affiliate link, and at no additional cost to you, I will earn a commission if you decide to purchase this book for your reading pleasure.