January 16, 2017
Setting Up Systems for Building a Law Business with Franchise Attorney Josh Brown [GWL 86]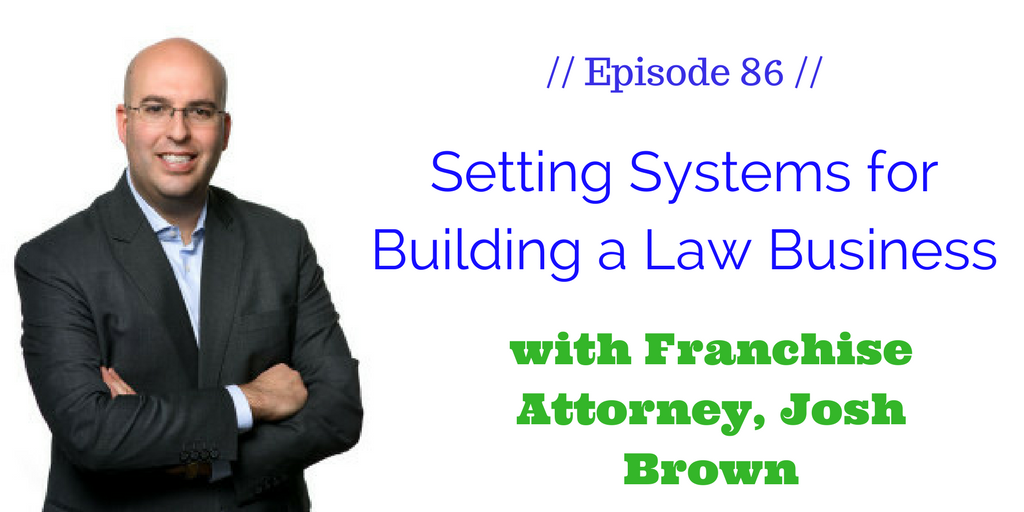 Podcast: Play in new window | Download | Embed
Subscribe: Apple Podcasts | Android | RSS
My guest Josh Brown, a franchise attorney and founder of The Law Office of Josh F. Brown in Indiana. Josh has built a thriving national practice helping people make smart franchise decisions, identify good franchise systems, work through franchise legal challenges, and grow through the franchise model.
Josh is also the creator and host of his very own podcast entitled, "Franchise Euphoria," a top-rated podcast on iTunes.
What We Discuss in this Episode:
Why Josh decided to niche down to franchise law instead of just being a general business law practitioner
Is the legal profession over saturated with lawyers practicing in niche areas?
Why you need to focus on building a law business not just a law practice
Josh shares the processes he's setting up to systemize his law practice
Josh's tips on how to build a successful solo practice that works for both the lawyer and the clients
The exact steps of how Josh created his list of systems using SweetProcess
How Josh is building his brand with a podcast and blogging.
Do lawyer recognition awards matter?
Contact Information:
Email: josh@indyfranchiselaw.com