January 9, 2017
From Viral Videos to a Super Bowl Commercial with Bryan Wilson – The Texas Law Hawk [GWL 85]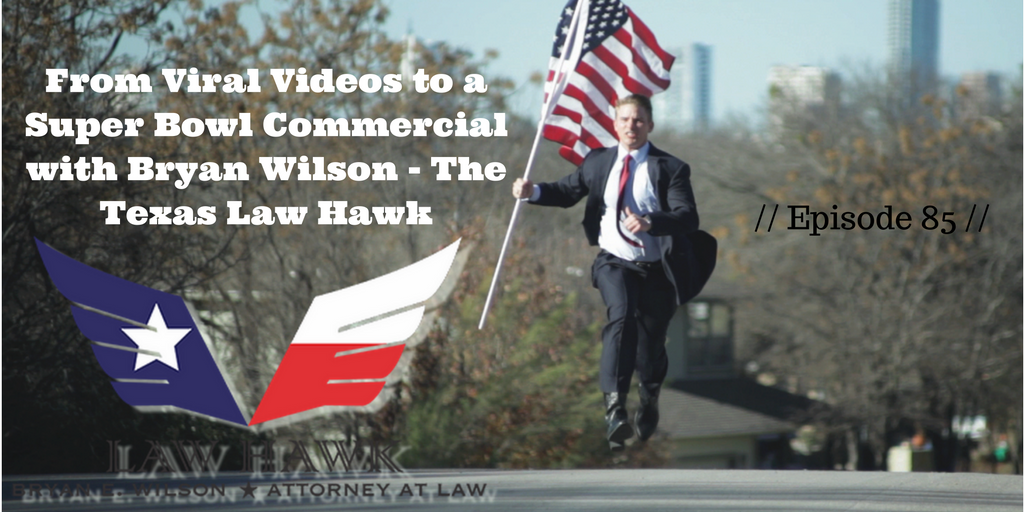 Podcast: Play in new window | Download | Embed
Subscribe: Apple Podcasts | Android | RSS
Bryan, a criminal defense attorney in Forth Worth, Texas, joins us to share his story of how he got started in creating videos and how they led him to create a commercial for the Super Bowl.
What we discuss in this episode:
Where his nickname came from and why he decided to keep using it as a solo practitioner
How he put himself in a position to pick and choose the cases he works on
Why he decided to start making videos and commercials for his law practice and for other companies
How he handled negative feedback from other lawyers on his videos
More importantly, how he navigated the State Bar's ethics rules
How he's tracking the analytics from his videos in order to reassess their effectiveness
If these videos are part of a larger goal, are they to attract clients, build brand awareness, or just for fun?
Why Bryan thinks that educational videos is the best way to help the general public and attract clients
How he comes up with material for his videos
How he attracted Taco Bell's attention for a national Super Bowl commercial
Can we help Bryan secure a commercial deal with Mountain Dew?
Contact info
Commercials: www.texaslawhawk.com/commercials/
Email: texaslawhawk@gmail.com
Phone: (817) 454 5965