November 2, 2015
Mastering the Art of Lawyering with Christopher Small [GWL 37]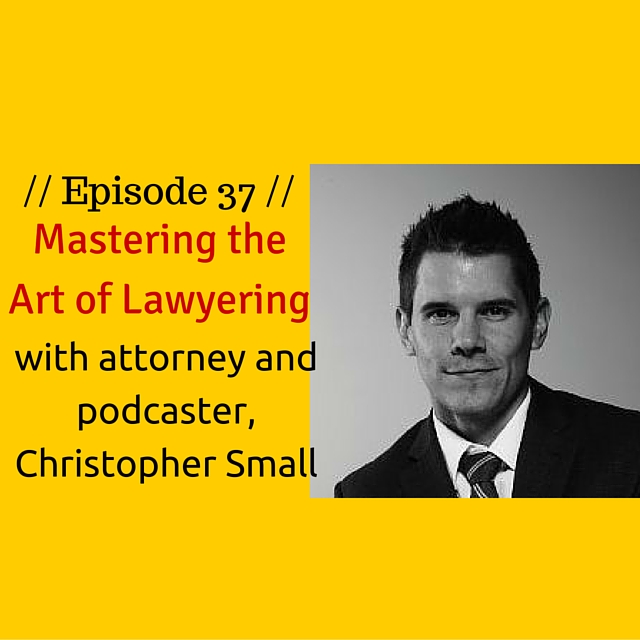 Podcast: Play in new window | Download | Embed
Subscribe: Apple Podcasts | Android | RSS
Chris Small is the owner of Emerald City Law Group in Seattle, Washington, and the charismatic host of The Art of Lawyering Podcast. In this episode, he talks to us about why it's ok if you want to own a law practice but not necessarily practice law, how to be ok with pursuing what you want in this world, and the power of an accountability partner.
What You'll Learn in this Episode:
Some prep work that could help you in opening your own practice
What to do when the business side of a law practice is more attractive to you than the legal practice itself
You don't have to have an entrepreneurial background to be successful at running your own practice
Informational books are your friends when you're unsure of what to do
Blogging can be the root of all that is good in your life and practice
How podcasting helps Chris in his legal practice
Do what you want to do, even if others don't think it's normal
It's ok if you don't want to practice law but want to run a law practice instead so long as you surround yourself with competent specialists in a specific practice area.
How soon is too soon to open your own practice? Must you "pay your dues" working for someone else first?
What is a mastermind and is it something YOU should be involved in?
How you can get comfortable being uncomfortable
Recommended Reading:
Jeff Olson and John David Mann – The Slight Edge: Turning Simple Disciplines into Massive Success and Happiness
 (affiliate link*)
Action Item:
Write down 1 thing you want to accomplish by the end of the year and then decide what is one thing I can do today to help me reach that goal.
Contact Information:
chris@theartoflawyering.com
Twitter: @artoflawyering
Thanks for Checking Out the Show Notes and for Listening!
I really hope you enjoyed this episode. It was certainly a great experience for me.
If you feel like you just can't keep the excitement you feel for this episode to yourself, please share it using the social media buttons you see at the bottom of the post.
Also, please don't forget to subscribe to the GWL Podcast in iTunes or in Stitcher Radio. That way, every time I prepare a new episode for you, it'll automatically show up in your phone.  No Fear Of Missing Out here.
Once last thing: I would truly appreciate it if you could leave an honest review for The Gen Why Lawyer Podcast in iTunes. Positive ratings and reviews help boost the visibility of the show and help me in reaching more young lawyers.
*Disclosure:  Please note that the link above is an affiliate link, and at no additional cost to you, I will earn a commission if you decide to purchase this book for your reading pleasure.