October 26, 2015
Picking a Niche Practice Area and Earning Your Reputation with Wedding Industry Lawyer Rob Schenk [GWL 36]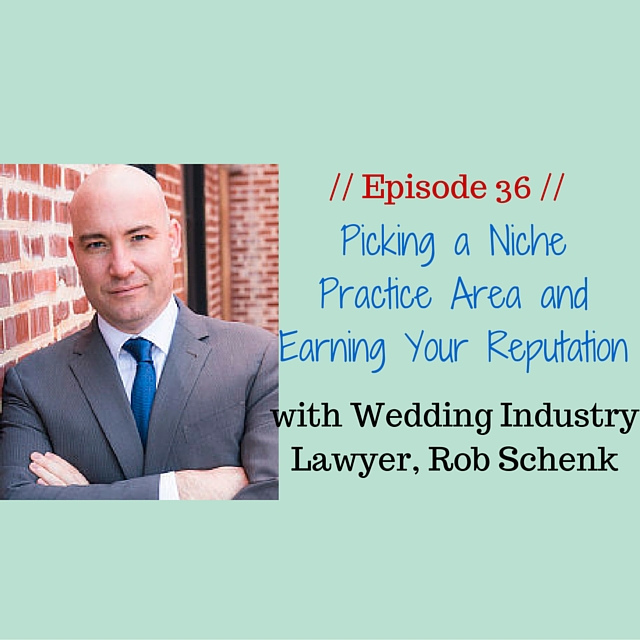 Podcast: Play in new window | Download | Embed
Subscribe: Apple Podcasts | Android | RSS
Get your free copy of The Gen Why Lawyer's "7 Ways to Shake Things Up as a Young Lawyer" here.
Rob Schenk has created a name for himself as the go-to attorney for wedding industry professionals. Along with a thriving personal injury practice, Rob maintains a successful wedding industry blog. In this episode, Rob shares his tips to figuring out your niche practice area, finding your ideal client, and making a name for yourself in this profession.
Highlights from the Episode:
Why your first attempt at solo practice might not be successful and how you can bounce back and try again
As a new lawyer, perhaps trying to handle whatever matter walks through the door isn't the wisest decision
Is it a good idea to focus your blog on a subject that isn't your main practice area?
How speaking engagements can help you grow your practice
Why Rob decided to start his blog and how he's growing it
The most important factor to creating a viral blog post
Is it worth exploring different avenues of income producing activities services? Rob thinks so!
The 2 fears Rob had when he first started practicing law
Recommended Reading:
Six Harsh Truths That Will Make You a Better Person – David Wong
Action Item:
Try to find your ideal client type within your area and find out where they go for advice, which orgs they belong to, what they need help with.
Contact Information: