September 14, 2015
How to Run a Conscious Law Firm and Business with Glenn Meier [GWL 30]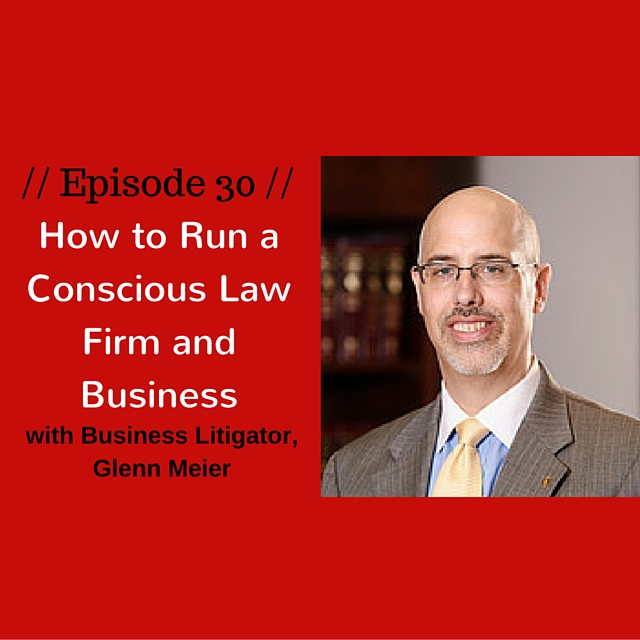 Podcast: Play in new window | Download | Embed
Subscribe: Apple Podcasts | Android | RSS
Show Notes
Glenn Meier is a partner at Holley Driggs Walch in Las Vegas, Nevada. He's been practicing for over 25 years, focusing on business litigation. Now, he is working on transitioning his practice to focus on conscious business law! What is that you ask? Read below for the highlights.
Important Stuff We Discuss in this Episode:
Even if you have many years of experience, you might still want to work in a firm setting instead of going solo
What is conscious business law?
The "right way" of business is not about maximizing profits. It's about creating a better world, helping others, and still making money.
The philosophy of conscious capitalism includes these 4 pillars:

Have a higher purpose (beyond generating a profit)
Adopt a stakeholder orientation (vs. shareholder)
Have conscious leadership
Have conscious culture

How to incorporate these 4 pillars above into a legal practice
Why going to law school is like working out only one side of your body for 3 years.
During client intake, discuss what your client's purpose is, not what his/her goals are
There will be some non-legal activity in your life that you're passionate about that'll teach you lessons that go far beyond that activity
Recommended Reading:
Rejendra Sisodia – Firms of Endearment: How World-Class Companies Profit from Passion and Purpose (2nd Edition)
 (affiliate link*)
Rajendra Sisodia and John Mackey – Conscious Capitalism, With a New Preface by the Authors: Liberating the Heroic Spirit of Business
 (affiliate link*)
Bob Chapman and Raj Sisodia – Everybody Matters: The Extraordinary Power of Caring for Your People Like Family
 (affiliate link*)
Action Item:
Once you have a vivid picture of whom your ideal client is, figure out where they hang out and go meet them.
Contact Information:
Email: gmeier@nevadafirm.com
LinkedIn: Glenn Meier
Twitter: @mrglennmeier
Thanks for Checking Out the Show Notes and for Listening!
I really hope you enjoyed this episode. It was certainly a great experience for me.
If you feel like you just can't keep the excitement you feel for this episode to yourself, please share it using the social media buttons you see at the bottom of the post.
Also, please don't forget to subscribe to the GWL Podcast in iTunes or in Stitcher Radio. That way, every time I prepare a new episode for you, it'll automatically show up in your phone.  No Fear Of Missing Out here.
Once last thing: I would truly appreciate it if you could leave an honest review for The Gen Why Lawyer Podcast in iTunes. Positive ratings and reviews help boost the visibility of the show and help me in reaching more young lawyers.
*Disclosure:  Please note that the link above is an affiliate link, and at no additional cost to you, I will earn a commission if you decide to purchase this book for your reading pleasure.