August 24, 2015
How to Build a Lifestyle Law Practice with Entertainment Lawyer Gordon Firemark [GWL 27]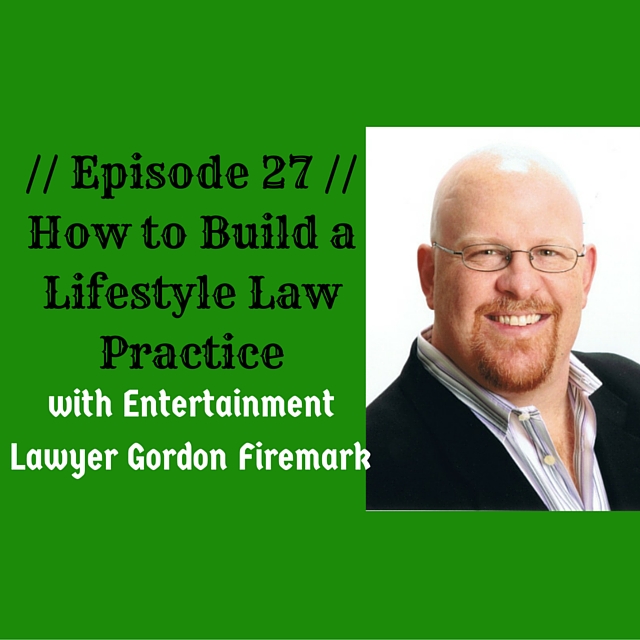 Podcast: Play in new window | Download | Embed
Subscribe: Apple Podcasts | Android | RSS
Sign up for our newsletter and receive your free copy of "7 Ways to Shake Things Up as a Young Lawyer (Plus 1 That Will Completely Change the Game).
Gordon is a Los Angeles entertainment law attorney who helps creatives and business people in the entertainment industry bridge the gap between the creative mindset and business mindset. Gordon shares the top 3 traits/skills needed as an entertainment lawyer. We also chat about building a lifestyle law practice and of course, the power of podcasting for lawyers.
What We Cover in this Episode:
The dynamics of a great elevator pitch
Using your non-legal passions to influence your practice area decisions
How to handle slow months where money isn't flowing
What's a typical day like for entertainment lawyers
Is work/life balance is actually attainable for young lawyers?
Top 3 traits/skills to have as an entertainment lawyer

Be an expert in the field of copyright law
Have a talent for negotiation
Develop your people skills

The phenomenal power of podcasting for lawyers
Special offer just for you, Gen Why'ers, for Gordon's Power Podcasting for Lawyers course: www.lawpodcasting.com/genwhy  (affiliate link*)
Recommended Reading:
Book Yourself Solid: The Fastest, Easiest, and Most Reliable System for Getting More Clients Than You Can Handle Even if You Hate Marketing and Selling
 by Michael Port (affiliate link*)
Action Item:
Set goals for yourself. Figure out the approach you're going to use to get there. Create a roadmap. Also, figure out whom your ideal client is so all of your marketing efforts are geared towards your ideal client.
Contact Information:
www.entertainmentlawupdate.com
Twitter: @gfiremark
Thanks for Checking Out the Show Notes and for Listening!
I really hope you enjoyed this episode. It was certainly a great experience for me.
If you feel like you just can't keep the excitement you feel for this episode to yourself, please share it using the social media buttons you see at the bottom of the post.
Also, please don't forget to subscribe to the GWL Podcast in iTunes or in Stitcher Radio. That way, every time I prepare a new episode for you, it'll automatically show up in your phone.  No Fear Of Missing Out here.
Once last thing: I would truly appreciate it if you could leave an honest review for The Gen Why Lawyer Podcast in iTunes. Positive ratings and reviews help boost the visibility of the show and help me in reaching more young lawyers.
*Disclosure:  Please note that the link above is an affiliate link, and at no additional cost to you, I will earn a commission if you decide to purchase this book for your reading pleasure.