July 20, 2015
Home
Podcasts
Using Social Media (and Being Enchanting) to Catapult Your Practice with Jacob Sapochnick [GWL 23]
Using Social Media (and Being Enchanting) to Catapult Your Practice with Jacob Sapochnick [GWL 23]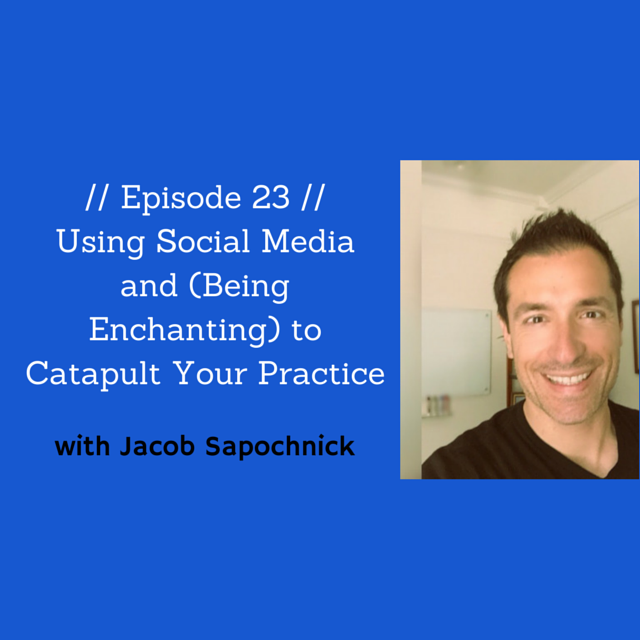 Podcast: Play in new window | Download | Embed
Subscribe: Apple Podcasts | Android | RSS
Periscope, Twitter's live streaming app,  is a game changer for young lawyers! Download the app, follow me (@nicoleabboud), and let's scope together. You'll thank me 🙂
Show Notes
Jacob is a superstar! He is an immigration attorney from San Diego, Ca with a thriving practice, a popular podcast, and several successful businesses.  Jacob is redefining the meaning of legal marketing and is killing it when it comes to integrating and using social media in his practice, with over 119,000 Facebook fans. In this episode, Jacob shares his secrets and tips on how to build a thriving law practice by being enchanting and tapping into the power of social media.
What We Cover in this Episode:
How you can use your legal knowledge to do anything
Signs that you should go solo
Can blogging make you an expert?
How to garner more fans on Facebook
Should you be everywhere on social media?
Sharing value for free will attract clients
Don't call legal marketing "marketing"
If you only practice law and do nothing else, it's difficult to remain motivated and creative
Recommended Reading:
Jay Baer – Youtility: Why Smart Marketing Is about Help Not Hype
 (affiliate link*)
Action Item:
Always audit your progress. Record what you've done for the past month and assess whether it's something that was helpful or not. Eliminate what wasn't helpful for your progress.
Contact Info:
Jacob@enchantinglawyer.com
Twitter: @visalawyerblog
Thanks for Checking Out the Show Notes and for Listening!
I really hope you enjoyed this episode. It was certainly a great experience for me.
If you feel like you just can't keep the excitement you feel for this episode to yourself, please share it using the social media buttons you see at the bottom of the post.
Also, please don't forget to subscribe to the GWL Podcast in iTunes or in Stitcher Radio. That way, every time I prepare a new episode for you, it'll automatically show up in your phone.  No Fear Of Missing Out here.
Once last thing: I would truly appreciate it if you could leave an honest review for The Gen Why Lawyer Podcast in iTunes. Positive ratings and reviews help boost the visibility of the show and help me in reaching more young lawyers.
*Disclosure:  Please note that the link above is an affiliate link, and at no additional cost to you, I will earn a commission if you decide to purchase this book for your reading pleasure.