June 1, 2015
Advocating for Her Clients and for Breast Health Awareness with Samantha Golkin [GWL 16]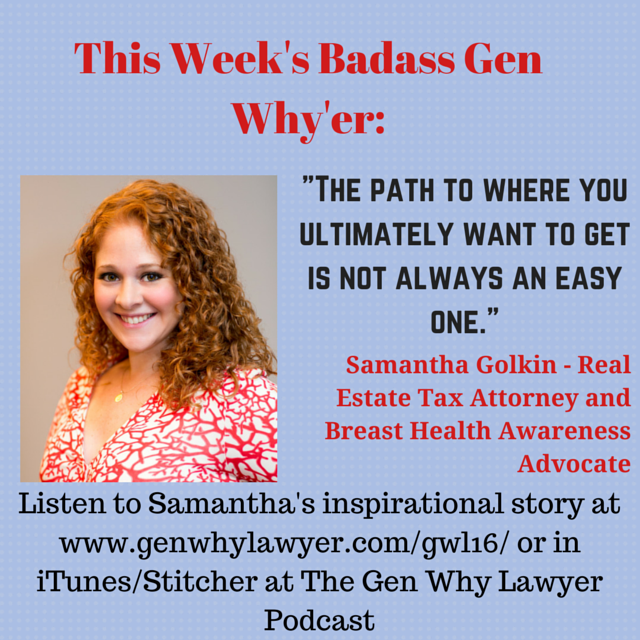 Podcast: Play in new window | Download | Embed
Subscribe: Apple Podcasts | Android | RSS
Samantha, a real estate attorney, was diagnosed with breast cancer at the age of 30. Now, she spends her time advocating both in Court for her clients and as a board member of The Pink Agenda, a branch of the Breast Cancer Research Foundation in New York which helps raise awareness and educate young professionals about breast cancer and breast health awareness.
Show Notes
Samantha is a Partner with Jeffrey Golkin Partners, and she is admitted to practice before the New York, New Jersey, Federal, and Tax Bars since 2009.  She holds a J.D. from Seton Hall Law School, and an LL.M. in Real Estate from New York Law School.
Even though Samantha studied communications in college, she wanted to become a lawyer because her father was a lawyer and she always admired his work ethic. For a short while, Samantha wanted to become an entertainment lawyer and even tried her hand at entertainment law.  Ultimately, she ended up where she is now, practicing real estate and tax law where she helps clients with various property related tax matters.
Samantha's advocacy doesn't stop in the courtroom. She is an advocate for early detection and prevention of breast cancer. At a young age, Samantha knew that she had a higher risk of being diagnosed with breast cancer considering her mother was diagnosed at a young age as well. That made Samantha vigilant about her breast health and after being diagnosed with breast cancer at the age of 30, she underwent a double mastectomy.  Now, she sits on the board of The Pink Agenda.  She has appeared on MSNBC and HuffPost Live and writes on related topics in her regular Huffington Post column.
What We'll Cover in this Episode:
What a real estate tax certiorari attorney does.
How to set up the proper structure for a successful career while still in law school.
How dealing with adversaries every day can make an otherwise enjoyable career miserable.
Why breast health awareness is super important, even for women under the age of 40.
What The Pink Agenda Speaker Series involves.
How to be your best breast advocate.
BRCA gene patent issues  – where breast cancer and the law intersect
Quote/Mantra: You achieve greatness one day at a time.
Recommended Book:
Why I Wore Lipstick to My Mastectomy by Geralyn Lucas
The Stranger – Harlan Coben
The Martian – Andy Weir
Action Item:
Have the work ethic for the job you want.
Contact Info:
Twitter: @Samanthagolkin
sjgolkinesq@gmail.com