May 18, 2015
Don't Fake It, Just Make it! With Fashion Law Attorney Ali Grace Marquart [GWL 14]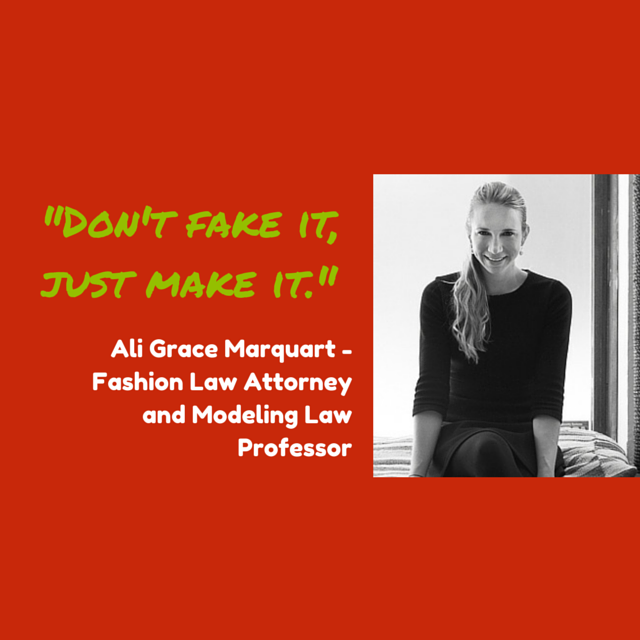 Podcast: Play in new window | Download | Embed
Subscribe: Apple Podcasts | Android | RSS
 Ali is a fashion and entertainment attorney practicing in New York.  She previously served as the Deputy General Counsel and Director of Business and Legal Affairs for Wilhelmina Models and was recently named as one of Forbes' 30 Under 30 for 2015 for law and policy. She is also an Adjunct Professor at Fordham Law School where she teaches Fashion Modeling law. Her course covers immigration laws as they relate to models, entertainment law, antitrust law, and social issues.
Show Notes
Quote: "The thing always happens that you really believe in; and the belief in a thing makes it happen" by Frank Lloyd Wright
What You'll Learn In this Episode:
How even house parties can be perfect opportunities to network and find your first legal job.
The kind of work being an in-house counsel at a modeling agency entails.
How to transition from in house counsel to private practice.
Why the concept of "fake it 'til you make it" could be dangerous.
Why the fear of age related bias in the legal profession is possibly a self-imposed limitation.
Why LA is ready for a big overhaul in the fashion industry and there's a huge need for fashion law attorneys.
Recommended Reading:
Read everything you can get your hands on that's applicable to whatever it is you're most passionate about.
Action Item:
Figure out what you love and then find a way to make that work for you.
Contact Info:
Twitter: @model_esq