May 11, 2015
Two Women in the Law Discuss Women in the Law – with Staci Zaretsky from Above the Law [GWL 13]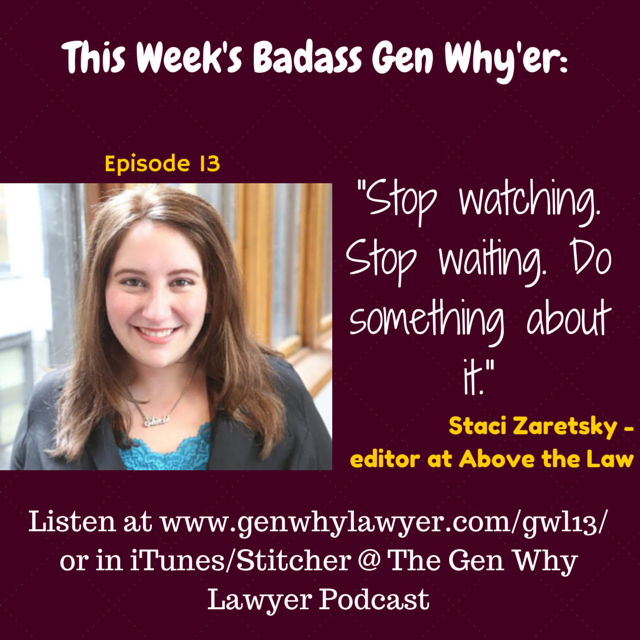 Podcast: Play in new window | Download | Embed
Subscribe: Apple Podcasts | Android | RSS
Staci Zaretsky became an editor for Above the Law in June 2011. She graduated from Western New England University School of Law. Before decided to pursue writing as a full-time career, Staci clerked at a small law firm. Her writing has appeared in other legal publications, such as Judgepedia, Lawyerist, and Ms. JD. She has been featured on various television and radio programs, like CNBC's Power Lunch, HuffPost Live, BBC Radio, TF1 TV France, Chicago Public Radio, and Civil Discourse Now.
Show Notes
What You'll Learn in this Episode:
How to deal with not getting your dream job straight out of law school, even if you have all of the makings of a perfect candidate.
Volunteering is crucial to gain experience and add to your resume.
People need to know things and you are just the person to tell them.
How women in the law are always getting the short end of the stick and what we can do about it.
Why being called "sweetie" at work is not ok.
How to contribute to Above the Law.
Quote: "Leadership belongs to those who take it." Sheryl Sandberg
Recommended Reading:
Scott Dodson – The Legacy of Ruth Bader Ginsburg
 (affiliate link*)
Action Item:
The best way to get ahead is to stop wishing and stop waiting. If you want something,
go out and make it happen.
Contact Info:
Twitter: @stacizaretsky
tips@abovethelaw.com – To submit a tip or contribute an article to Above the Law.
Have a comment/suggestion? I want to hear it! Email me at nicole@genwhylawyer.com
Thanks for Checking Out the Show Notes and for Listening!
I really hope you enjoyed this episode. It was certainly a great experience for me.
If you feel like you just can't keep the excitement you feel for this episode to yourself, please share it using the social media buttons you see at the bottom of the post.
Also, please don't forget to subscribe to the GWL Podcast in iTunes or in Stitcher Radio. That way, every time I prepare a new episode for you, it'll automatically show up in your phone.  No Fear Of Missing Out here.
Once last thing: I would truly appreciate it if you could leave an honest review for The Gen Why Lawyer Podcast in iTunes. Positive ratings and reviews help boost the visibility of the show and help me in reaching more young lawyers.
*Disclosure:  Please note that the link above is an affiliate link, and at no additional cost to you, I will earn a commission if you decide to purchase this book for your reading pleasure.