April 13, 2015
Home
Podcasts
How to Develop a Unique Digital Presence That Knocks People's Socks Off with Mitch Jackson [GWL 09]
How to Develop a Unique Digital Presence That Knocks People's Socks Off with Mitch Jackson [GWL 09]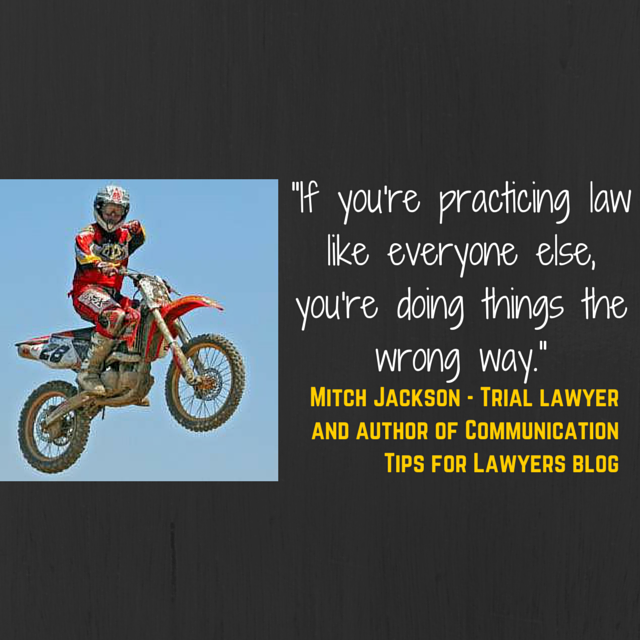 Podcast: Play in new window | Download | Embed
Subscribe: Apple Podcasts | Android | RSS
Mitch has been a trial lawyer for 29 years focusing on personal injury. When he's not in the courtroom, Mitch uses social media to help good attorneys become great trial lawyers and to show everyone (not just lawyers) how to communicate with impact. He authors a very successful communication tips blog at mitchjackson.com and he interviews with amazing people who are influencing others and changing the world over at http://Human.Social
Show Notes
Quote: "Be true to yourself and make each day your masterpiece." – John Wooden
Why Mitch went to law school:
After undergrad, he dabbled in business for a while, but he always thought he wanted to be in a position where he could help people and help protect others.
Pay attention to finding a niche in the legal arena that you enjoy doing. Help clients you believe in.
Stay focused and centered with your true ethics, morals, and interest compass that's inside each and everyone us.
About www.mitchjackson.com, the trial lawyer communication tips blog:
You have to be on the digital platforms. But if you're going to be on there, you have to focus on something that knocks your socks off – a niche. For Mitch, it was communication.
If you're a young lawyer and want to get noticed, make sure you blog about something you're super passionate about and relate it to the law. Add your own unique legal interpretation. It will explode!
Blogging/vloggin: write about something you enjoy doing that has a legal aspect to it and share as much helpful info as you can. Share the secret sauce.
When should I start blogging? And what do I write about?
Start as early as possible. Think: what do you enjoy doing? Start blogging about what you love and start differentiating yourself.
For employers, it makes a difference if applicants have an impressive digital footprint. Employers don't want to see the same damn resume all the time.
Once you figure out it's ok to share your unique art with the world, that's what's going to differentiate you from everyone else.
Using social media the right way:
Use the correct platforms. Figure out where your audience is depending on what your interests are and share good content in the right context on those particular platforms.
Gary Vaynerchuk tells you how to find your audience.
If you want to find out where your audience is, ask people! Where are they following you? Where are people finding out more about something that interests you.
Digital platforms are welcome mats to the law firm.
Until you understand how to be on the platform, don't be on there. Don't just exist there.
David Meerman's Scott: The New Rules of Sales and Service: How to Use Agile Selling, Real-Time Customer Engagement, Big Data, Content, and Storytelling to Grow Your Business
 (Affiliate Link*)
Just be real. Let the little things in life you're self-conscious about go.
Lawyers need to empower themselves to take that step and start sharing on social.
You don't have to be polished. You don't have to be super professional. What's even more important is just be yourself.
What is human.social all about:
Showcase some cool people from around the world, like Gary Vaynerchuk and Seth Godin.
It's about making new connections and new friends he can reach out to and help.
Chrissie Lightfoot: Tomorrow's Naked Lawyer
 (affiliate link*)
Chris Hargreaves. Australian attorney. Author of www.tipsforlawyers.com
Ruth Carter: flash mob law
What can young lawyers learn from business entrepreneurs?
Jason Fried: co-founder of Basecamp and 37signals. Author of Rework.
Do things differently than everyone else. That's how you're going to be successful. That's how you're going to stand out.
Everything should be focused on forming genuine relationships with others.
Recommended Reading:
Bob Burg – Adversaries into Allies: Master the Art of Ultimate Influence
 (Affiliate Link*)
Sally Hogshead – Fascinate: Your 7 Triggers to Persuasion and Captivation
 (Affiliate Link*)
Action Item:
Always be transparent, honest, always share what is unique about you (good and bad). Don't be fake.
Contact Info:
Thanks for Checking Out the Show Notes and for Listening!
I really hope you enjoyed this episode. It was certainly a great experience for me.
If you feel like you just can't keep the excitement you feel for this episode to yourself, please share it using the social media buttons you see at the bottom of the post.
Also, please don't forget to subscribe to the GWL Podcast in iTunes or in Stitcher Radio. That way, every time I prepare a new episode for you, it'll automatically show up in your phone.  No Fear Of Missing Out here.
Once last thing: I would truly appreciate it if you could leave an honest review for The Gen Why Lawyer Podcast in iTunes. Positive ratings and reviews help boost the visibility of the show and help me in reaching more young lawyers.
*Disclosure:  Please note that the link above is an affiliate link, and at no additional cost to you, I will earn a commission if you decide to purchase this book for your reading pleasure.