April 6, 2015
How Leveraging Her Network Helped Jennifer C. Duval Land Her Dream Job as Counsel at BET [GWL 08]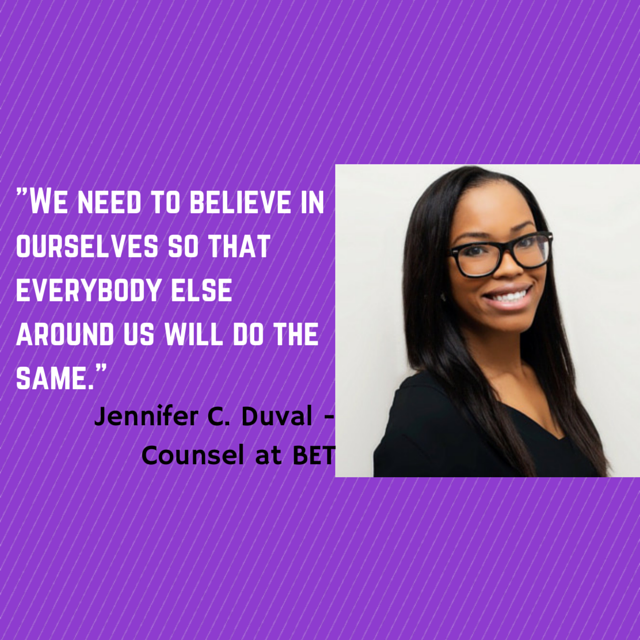 Podcast: Play in new window | Download | Embed
Subscribe: Apple Podcasts | Android | RSS
Jennifer Duval is currently counsel in the Los Angeles office of BET, a television network she has watched and admired since she was a young girl. Jennifer shares how she treated everyday of law school as an interview, proactively connected with professors and attorneys, and harnessed her PR and marketing background to help her excel at her current position.
Show Notes
Quote: "I am the greatest, I said that even before I knew I was" – Muhammad Ali
Her PR background:
Worked at Attention PR with great brands like Barbie, Chanel, and HBO
Her experience there reassured her that she wanted to be in the entertainment industry.
She knew that law school would open doors to the opportunities for her to become an executive in the entertainment industry.
How she landed her first job:
Her law school, Southwestern Law School, had a lot of entertainment related courses so she took as many as she could.
She studied abroad with the Biederman institute, Southwestern's Entertainment Law Institute.
She made connections with her professors and live speakers.
She took all the electives that were available that were entertainment related.
As a 2L, she interned at BET. As a 3L, she became a law clerk at BET. After taking the bar, she was brought back to BET as a staff member.
How she got her internship:
She did her internship during the school year as opposed to the summer break because it's less popular so you get more responsibilities and opportunities for those involved.
She got that internship through a classmate who had been an intern there before.
She always kept in touch with her classmates since they were great referral sources and she could refer work to them.
Day-t0-day:
Negotiating and drafting the above the line and below the line deals for the network programs.
Working on director deals, performer deals, writer's room set up, guild paperwork.
It requires patience to go through all of the contracts and documents since they're specially tailored to each circumstance.
Even though it's the entertainment industry, it's not glamorous. It's still hardwork and holds a lot of liability still. The legal department is seen as holding the key and knowledge to putting the programs on tv.
Best part of her job: Being a part of the programs that she grew up watching and is a huge fan of
Worst part: Same thing because she gets all the spoilers in advance so it ruins it for her
Advice for those wanting to break into the entertainment law industry:
Take the time that you have available to you now to reflect and make sure this is what you want to do
It is not an industry for the faint of heart.
PR and marketing background and the connection to Jennifer's legal career:
Because everything is turning digital, she was able to gain an important appreciation and insight into the business model of the future
She uses her personal social media platforms to promote the BET programs because her personal and business interests are so interconnected at this point, there's no difference
Recommended Reading:
Dina Appleton – Hollywood Dealmaking: Negotiating Talent Agreements for Film, TV and New Media
 (Affiliate Link*)
Action Item:
Make that initial contact. Send that cold email. Go to that network event. Find that person or 2 that are going to be available to be your mentor to help open the door for you. Especially in this industry since it's very small and held very tightly by those already in it.
Contact information:
Email: jennifercduval@gmail.com
LinkedIn: Jennifer C. Duval
Instagram: @HollywoodBlackk
Thanks for Checking Out the Show Notes and for Listening!
I really hope you enjoyed this episode. It was certainly a great experience for me.
If you feel like you just can't keep the excitement you feel for this episode to yourself, please share it using the social media buttons you see at the bottom of the post.
Also, please don't forget to subscribe to the GWL Podcast in iTunes or in Stitcher Radio. That way, every time I prepare a new episode for you, it'll automatically show up in your phone.  No Fear Of Missing Out here.
Once last thing: I would truly appreciate it if you could leave an honest review for The Gen Why Lawyer Podcast in iTunes. Positive ratings and reviews help boost the visibility of the show and help me in reaching more young lawyers.
*Disclosure:  Please note that the link above is an affiliate link, and at no additional cost to you, I will earn a commission if you decide to purchase this book for your reading pleasure.