April 1, 2015
How to Become a More Effective Leader…Even if You're an Introvert with Ryan Jenkins [GWL 07]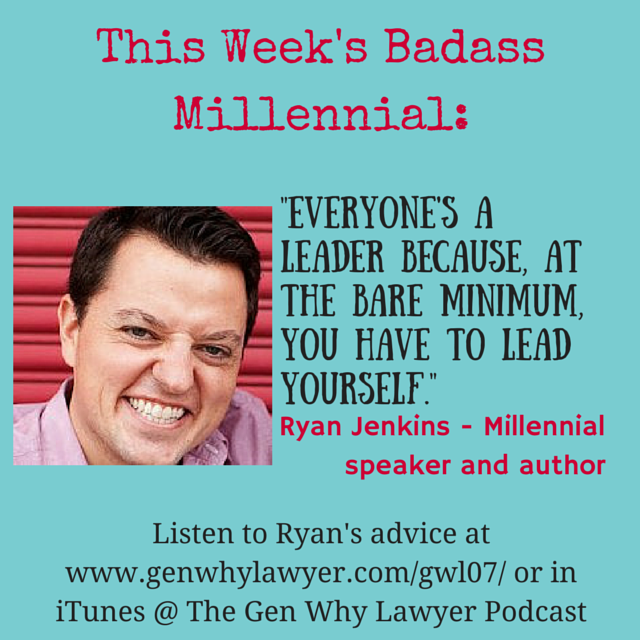 Podcast: Play in new window | Download | Embed
Subscribe: Apple Podcasts | Android | RSS
Ryan Jenkins is a millennial keynote speaker and author. He equips organizations and leaders with the next generation leadership, branding, and communication skills needed to thrive in today's multi-generational marketplace. His mission is to help leaders become tomorrow's leaders today.
Show Notes
"One's mind, once stretched by a new idea, never regains its original dimensions." – Oliver Wendell Holmes
"A great speech is never written, only rewritten" Anonymous
"Sweat in peace so you don't bleed in battle" "Anonymous
– The Next Generation Catalyst: Ryan's monthly podcast. It's about exposing next generation trends. Our generation is a catalyst for all of the change we're experiencing in today's marketplace. The more we understand this generation, the better we can position our companies and thrive in this economy
– Gen Y is creating fundamental shifts in the areas of leadership, technology, work culture: Generations are a clue, not a box.
How can employers approach millennials in the workplace?
– If you're still in cubicles and there's not a lot of technology or collaboration, that could be hard for millennials
– Also, the 9 to 5 is eroding. Now, we're working all around the clock, at different times, whenever and wherever we want.
– We expect a greater work/life integration
– Employers need to manage outputs. Clearly identify goals of employees and manage output. Doesn' t matter when the work is being done, just the quality that's being produced
– As an employer, you have to create an engaging environment that allows for ownership, exploration and innovation or else millennial employees will go find it elsewhere and you will find energy and creativity leaks in your organization.
How are Millennials best positioned to be leaders?
John Maxwell – "Leadership is influence. Nothing more nothing less"
– The top leadership/entrepreneurship quality to have is the ability to be agile. Be agile in your thinking and agile in your skillset.
– You can still be entrepreneurial if you work within a large organization = "intrapreneur"
– We're going to see massive change and as millennials, we have a knack for adaptability. This translates into agility. We want to innovate, push the envelope, create and move forward.
Is leadership suited for everyone?
– Not everyone is suited to actually lead people in a structured format but everyone has the capacity to do so
– If people are looking at you and your behavior, thoughts, actions influence others, then by default, you're a leader. So it behooves everyone to understand what leadership is.
How can introverted attorneys lead in their own way?
– Jennifer Kahnweiler: discusses introverted leaders
– Introverts are good at sitting down and ushering/collecting their thoughts well.
– Extroverts want to shake hands, make connections, and go with the flow
– You're either an extrovert or introvert based on where you get your energy.  Do you get more energy being around people or do you get your energy being by yourself thinking, reading, rejuvenating?
Recommended Reading:
John C. Maxwell – Put Your Dream to the Test: 10 Questions to Help You See It and Seize It (Affiliate Link*)
Gary Vaynerchuk – Crush It!: Why NOW Is the Time to Cash In on Your Passion
 (Affiliate Link*)
David Allen – Getting Things Done: The Art of Stress-Free Productivity
 (Affiliate Link*)
Action Item:
Consider yourself a media company. Start producing content. That will propel you so far beyond and ahead of your colleagues. It'll position you as a thought leader. That will make you credible and people will want to work with you.
Contact Information:
Thanks for Checking Out the Show Notes and for Listening!
I really hope you enjoyed this episode. It was certainly a great experience for me.
If you feel like you just can't keep the excitement you feel for this episode to yourself, please share it using the social media buttons you see at the bottom of the post.
Also, please don't forget to subscribe to the GWL Podcast in iTunes or in Stitcher Radio. That way, every time I prepare a new episode for you, it'll automatically show up in your phone.  No Fear Of Missing Out here.
Once last thing: I would truly appreciate it if you could leave an honest review for The Gen Why Lawyer Podcast in iTunes. Positive ratings and reviews help boost the visibility of the show and help me in reaching more young lawyers.
*Disclosure:  Please note that the link above is an affiliate link, and at no additional cost to you, I will earn a commission if you decide to purchase this book for your reading pleasure.