March 23, 2015
Empowering Artists, Entrepreneurs, and YOU to Create Unstoppable Careers with Jo-Ná Williams [GWL 06]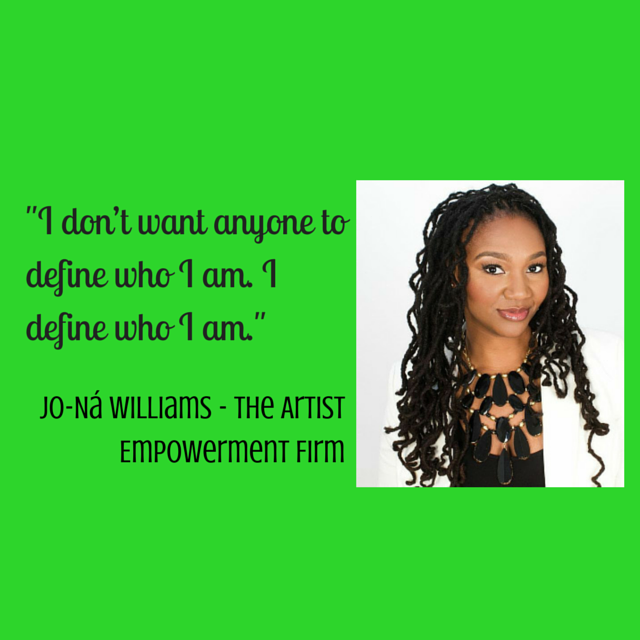 Podcast: Play in new window | Download | Embed
Subscribe: Apple Podcasts | Android | RSS
Jo-Ná A. Williams, Esq. founded J.A. Williams Law P.C. – The Artist Empowerment Firm in 2011 to provide artists and entrepreneurs with ways to successfully navigate their careers and provide assistance with business, entertainment and intellectual property matters. She founded Artist Empowerment Group in 2013 to advise artists on business, branding and marketing. Some of her clients have written best-selling books, reached the Billboard Top 100, and been nominated for Grammys. She's been featured in Marie TV, The Vocalist Magazine, Women In Music, ReverbNation, CDBaby and The New York State Bar Association's Entertainment, Arts and Sports Law Journal.
Show Notes
Quote: "Our truest life is when we are in dreams awake" Henry David Thoreau
Jo-Ná's journey
At 17, she was a background vocalist for independent artists. Her mother was a record promoter in Detroit so music was a huge part of Jo-Ná's life.

In high school, Jo-Ná was brought in to perform and prepare background vocals and was told she would be credited and compensated for her work but she never was.

When she realized she had been exploited, she decided she wanted to go to law school to learn how to protect other artists who might be in similar situations.
On networking and mentorship
Create relationships but always continue to build on them, check in on them, and network with them. Continue to offer value to them and they will remember that because most people don't go that extra mile.

Sometimes mentors are not supportive and don't buy into your vision but that's what pushes you to want to be prove them wrong. It allows you to see what you're truly made of.
The lawyerpreneur side of Jo-Ná: The Artist Empowerment Company
She started the Artist Empowerment Company because she had interests that didn't fit into the law firm.
She knew what her passion was and worked towards building her brand around her passion. For other who might not know what their brand is going to be about, try to figure it out.
On the importance of blogging as a lawyer
Writing is important to put your voice out in the world because you have a perspective that other people might not have or you see things differently and it's just as valuable.
It also keeps her legal mind strong and sharp.
On meditation
Meditation taught her forgiveness and there's no such thing as perfection.
There are many lessons to learn from yoga. When you're in a difficult pose, it makes you wonder if you are the type of person who runs away from a challenge.
Best part of job
Connecting with people and doing interviews, speaking, being intellectually challenged
Worst part of the job
The back-end, management part of it.
On work/life balance
Incorporating one day of rest changed the game for her because she went from being sick often, broke, and failing at relationships to happy and successful.
Recommended Reading:
Danielle Laporte – The Desire Map: A Guide to Creating Goals with Soul
 (Affiliate Link*)
Action Item:
keep in mind that we live in a relationship-based type of world. How far you get is based on the relationships you have. Continue to network, but network with care.
Contact Info:
Thanks for Checking Out the Show Notes and for Listening!
I really hope you enjoyed this episode. It was certainly a great experience for me.
If you feel like you just can't keep the excitement you feel for this episode to yourself, please share it using the social media buttons you see at the bottom of the post.
Also, please don't forget to subscribe to the GWL Podcast in iTunes or in Stitcher Radio. That way, every time I prepare a new episode for you, it'll automatically show up in your phone.  No Fear Of Missing Out here.
Once last thing: I would truly appreciate it if you could leave an honest review for The Gen Why Lawyer Podcast in iTunes. Positive ratings and reviews help boost the visibility of the show and help me in reaching more young lawyers.
*Disclosure:  Please note that the link above is an affiliate link, and at no additional cost to you, I will earn a commission if you decide to purchase this book for your reading pleasure.