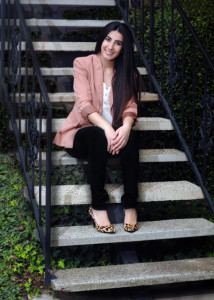 Hey there Gen Why'er!
As you can tell in the picture to the left, I'm a pretty happy person. But rewind just 5 years, to when I first passed the bar and started practicing, and you'll see a completely different picture. A few months into being a lawyer, I noticed I was unhappy, stressed, and unsatisfied every day.  I chucked it up to being an overwhelmed new lawyer in the wrong practice area (initially, I practiced Family Law). In 2014, I opened my own solo practice focusing on Fashion Law. While running my own practice eased the feelings of unhappiness, it didn't completely eliminate them. It took me a few more years to realize that it wasn't the lack of experience or the practice area I was in that made me unhappy, it was the entire practice of law. That was a huge pill to swallow. But I put my big girl panties on and decided to do something about it. I realized that I couldn't be the only one experiencing these feelings so I launched this podcast in March 2015 as an effort to reach out to and speak with other young lawyers who were feelingt he same thing but who decided to do something about it!   
Now, along with chatting with phenomenal lawyers and former lawyers on the podcast, I run a video marketing company for lawyers. In my free time (which seems to be rather scarce these days), I like to meet new people, usually through bar associations or community organizations. I get excited talking to fellow young attorneys and hearing about the amazing things they're accomplishing. I have 2 siblings (I'm the middle child!), 2 adorable nephews, and I run for fun.
I've been running since my high school cross country days and will continue to run until my knees give out.
Now that you know a little bit more about me, feel free to reach out and say hello. My email is nicole@genwhylawyer.com