November 6, 2017
Launching a Non-Profit and a Podcast with Special Education Lawyers Amanda Selogie and Vickie Brett [GWL 119]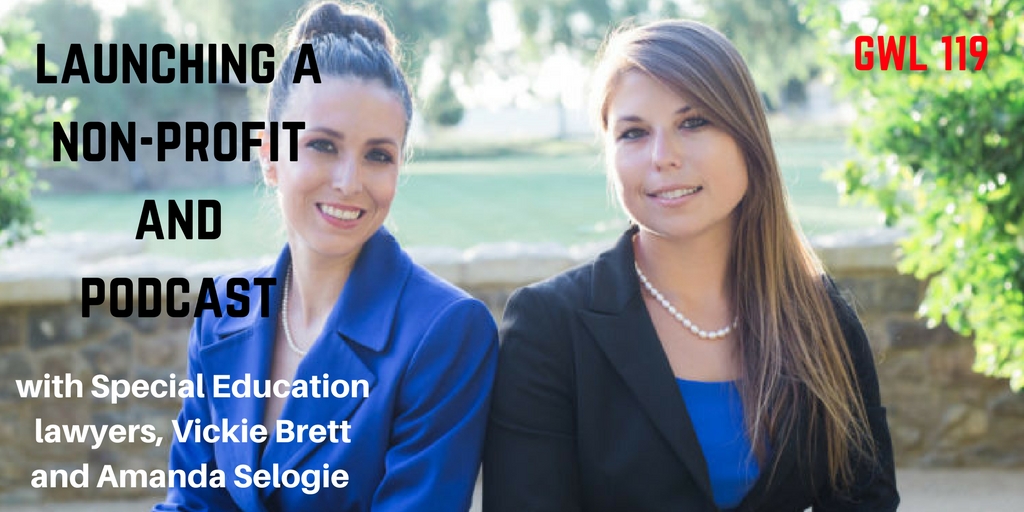 The fearless duo from Selogie and Brett, Amanda and Vickie, join us to share their insight on how they launched their law practice focused on helping children living with disabilities. They also share how they've channeled their passion for helping special needs children into their non-profit and their newly launched podcast.
What You'll Learn in this Episode:
What it takes to be a special education law attorney
How they figured out it was time for them to open their own practice together
Is going solo for everyone?
How can you make a law firm partnership last and how to make sure you're protected in case the love doesn't last
How someone in a niche practice area can generate business
What to use to market your practice when you don't have a big budget…or a budget at all!
Why they started their non-profit and a podcast to support the non-profit's mission
Resources Mentioned:
Connection Café
Contact Information:
Facebook, Instagram, Pinterest, Twitter
This episode is brought to you by MM.LaFleur, a women's workwear brand whose mission is to take the work out of dressing for work.
Thanks for Checking Out the Show Notes and for Listening!
I really hope you enjoyed this episode. I would really appreciate it if you shared this episode with a friend who could benefit from listening to this particular episode.
Also, please don't forget to subscribe to the GWL Podcast in Apple Podcasts or in Stitcher Radio. That way, every time I prepare a new episode for you, it'll automatically show up in your phone.
Once last thing: I would truly appreciate it if you could leave an honest review for The Gen Why Lawyer Podcast in Apple Podcasts. Positive ratings and reviews help boost the visibility of the show and help me in reaching more lawyers.