October 30, 2017
How to Build a Sales Funnel to Generate New Legal Clients with Sam Mollaei [GWL 118]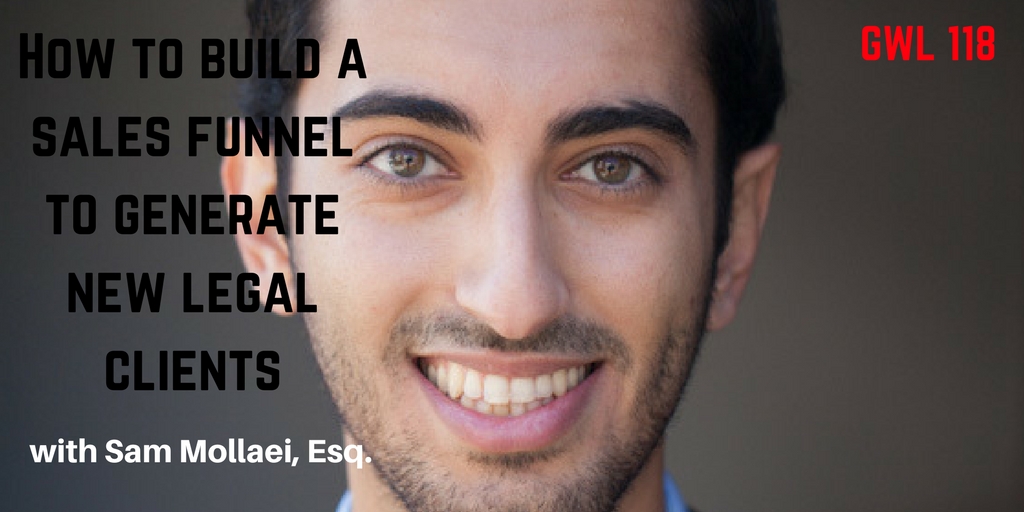 Joining us today is young attorney and digital marketer, Sam Mollaei. In just over 2 years, Sam managed to grow his virtual law practice from zero to over 600 clients. He shares his insights on how to build a sales funnel that continuously attract clients to your law practice.
What You'll Learn in this Episode:
How Sam's content marketing efforts began to pay off about 12 months after he began writing blogs
What type of good quality content you should be creating to attract legal clients
The importance of links and link-building on your website for attracting visitors
3 essential elements to figuring out the right niche

High urgency
High demand
Premium pricing

2 main ways to begin attracting clients online
Why it's important to build a system and sales funnel in order to get clients
Sam shares his 4-part sales funnel
How (and when) to properly ask for a Google review from your clients
Sam's 3 most valuable lessons learned
Which practice areas lend themselves the best to sales funnels
Resources:
Google Trends
Google Keyword Planner
Google Adwords
MixMax – email plugin that connects with Gmail to set up automatic follow up sequence
Contact Information:
Email: sam@legalfunnel.com
Thank you to our show sponsor
This episode is brought to you by MM.LaFleur, a women's workwear brand whose mission is to take the work out of dressing for work. Be sure to visit their website to experience their Bento Box service.
Thanks for Checking Out the Show Notes and for Listening!
I really hope you enjoyed this episode. I would really appreciate it if you shared this episode with a friend who could benefit from listening to this particular episode.
Also, please don't forget to subscribe to the GWL Podcast in Apple Podcasts or in Stitcher Radio. That way, every time I prepare a new episode for you, it'll automatically show up in your phone.
Once last thing: I would truly appreciate it if you could leave an honest review for The Gen Why Lawyer Podcast in Apple Podcasts. Positive ratings and reviews help boost the visibility of the show and help me in reaching more lawyers.