October 23, 2017
How to Rewire Your Brain for Optimal Performance with Leila Nosrat [GWL 117]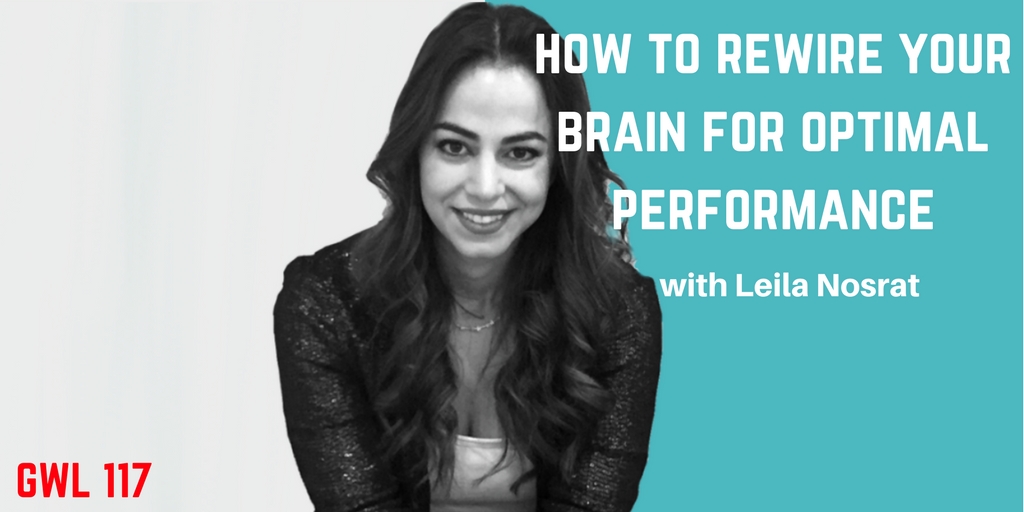 The mind is powerful. There's no doubt about that. But if you're like me, then you haven't learned how to tap into its power to unlock your full potential. Thankfully, Leila Nosrat is joining us today to teach us to do just that. She has perfected a 4-step process to help us rewire our brains in order to achieve our goals.
Leila is an attorney, mindset coach, and an academic success strategist. She is the host and producer of the YouTube series, Law with Leila, and is the founder of Bar Prep Mindset, a bar prep company helping law students get in the right mindset for the bar exams.
What You'll Learn in this Episode:
Why managing stress, both in law school and as a lawyer, forms the basis for success
Can we rewire and retrain our brains to accelerate our learning and do more?
How you can train your brain to wake up with more motivation and use certain strategies to perform at your optimal level
Leila's 4-step "IPSA" system to help you set and achieve your goals
The importance of affirmations, even in the absence of immediate results
Why Leila believes YouTube is a worthy platform to spend time on
Resources Mentioned:
Legal Seagull YouTube channel
Contact Information:
Law with Leila YouTube channel
Instagram: law_with_leila
Facebook: Leila Nosrat
Thank You to our Show Sponsor
This episode is brought to you by MM.LaFleur, a women's workwear brand whose mission is to take the work out of dressing for work. Be sure to visit their website to experience their Bento Box service.
Thanks for Checking Out the Show Notes and for Listening!
I really hope you enjoyed this episode. I would really appreciate it if you shared this episode with a friend who could benefit from listening to this particular episode.
Also, please don't forget to subscribe to the GWL Podcast in Apple Podcasts or in Stitcher Radio. That way, every time I prepare a new episode for you, it'll automatically show up in your phone.
Once last thing: I would truly appreciate it if you could leave an honest review for The Gen Why Lawyer Podcast in Apple Podcasts. Positive ratings and reviews help boost the visibility of the show and help me in reaching more lawyers.