October 16, 2017
Winning Your Case in the Court of Public Opinion with Wayne Pollock [GWL 116]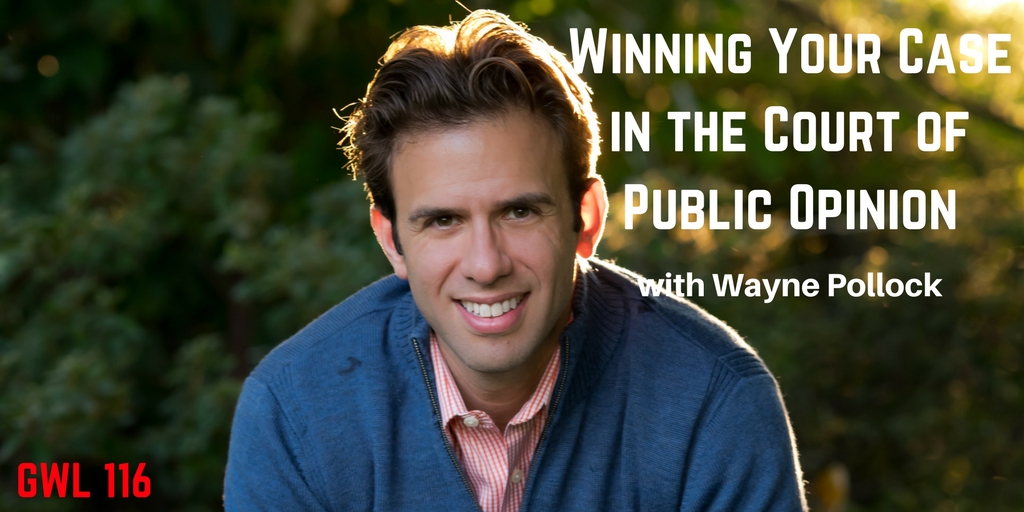 Wayne Pollock joins us in this episode to share his insight on how lawyers, can use the press and various media outlets to help tell the stories of their clients and help shape the opinions of those who might have some say in the outcome of our clients' cases, i.e. a jury or other decision makers.
What You'll Learn in This Episode:
What is the Court of Public Opinion and why should young lawyers know about it
Who are the members of the Court of Public Opinion
How a lawyer can engage members of the Court of Public Opinion and how that's beneficial from a legal service perspective, client perspective, and marketing perspective
The ethical concerns when it comes to engaging the media and press
Do transactional attorneys need to worry about how their clients' cases appear in the press too?
Why it's important to think critically about your brand and how you position yourself when it comes to your own media pursuits
Part of being a competent attorney might include telling their story to the public
What are the first steps to engaging the media for any of our cases
How Wayne is marketing his niche law firm
Contact Info
Email: waynepollock@copostrategies.com
LinkedIn: Wayne Pollock
Twitter: @waynepollock_cs
Sponsor Love
This episode is brought to you by MM.LaFleur, a women's workwear brand whose mission is to take the work out of dressing for work. Be sure to visit their website to experience their Bento Box service.
Thanks for Checking Out the Show Notes and for Listening!
I really hope you enjoyed this episode. I would really appreciate it if you shared this episode with a friend who could benefit from listening to this particular episode.
Also, please don't forget to subscribe to the GWL Podcast in Apple Podcasts or in Stitcher Radio. That way, every time I prepare a new episode for you, it'll automatically show up in your phone.
Once last thing: I would truly appreciate it if you could leave an honest review for The Gen Why Lawyer Podcast in Apple Podcasts. Positive ratings and reviews help boost the visibility of the show and help me in reaching more lawyers.