October 9, 2017
Millennial Leadership and Constructing Effective Teams with Mark Beese [GWL 115]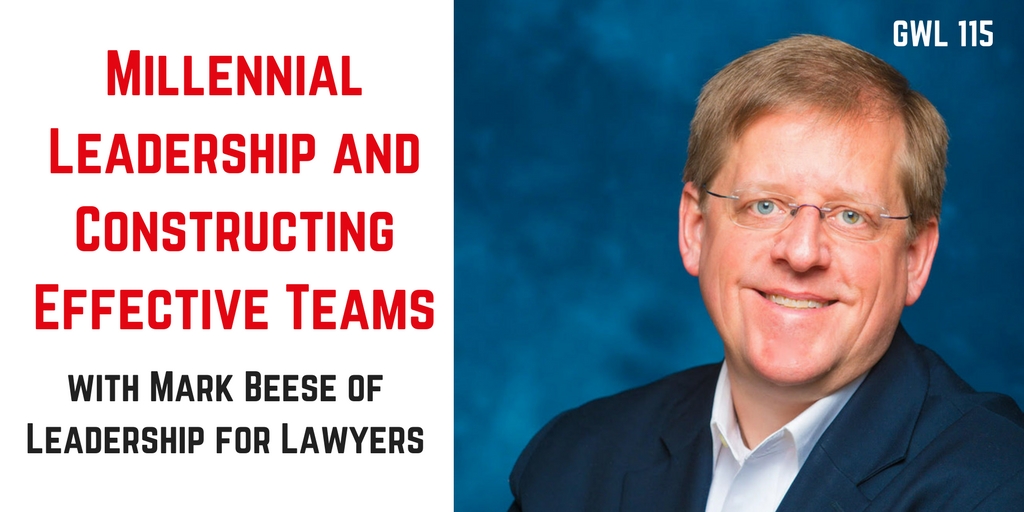 I love leadership! That's why I'm glad to have our guest, Mark Beese, on the show today. Mark is a leadership expert and he's here to chat about how Millennial lawyers can step up and become the leaders they are meant to be.
What You'll Learn in this Episode:
How lawyers can learn to become better leaders
The impact of leadership on business development and sustainability of firms
Why Mark believes Millennials will save the legal profession
Why it's important to understand negative and positive stereotypes in order to start building your leadership skills
What makes Millennial employees loyal
How to ask for and give feedback the right way
How to construct highly effective teams even as a young lawyer
Why we can do a lot better in teams than as individuals
Does teamwork make sense in a fiercely competitive legal profession?
What it'll take for law firms to build better workplace culture
Resources:
Center for Creative Leadership
Jennifer Deal, "What Millennials Want From Work"
Contact Information:
http://www.leadershipforlawyers.com
Thank You to Our Show Sponsor
This episode is brought to you by MM.LaFleur, a women's workwear brand whose mission is to take the work out of dressing for work. Be sure to visit their website to experience their Bento Box service.
Thanks for Checking Out the Show Notes and for Listening!
I really hope you enjoyed this episode. I would really appreciate it if you shared this episode with a friend who could benefit from listening to this particular episode.
Also, please don't forget to subscribe to the GWL Podcast in Apple Podcasts or in Stitcher Radio. That way, every time I prepare a new episode for you, it'll automatically show up in your phone.
Once last thing: I would truly appreciate it if you could leave an honest review for The Gen Why Lawyer Podcast in Apple Podcasts. Positive ratings and reviews help boost the visibility of the show and help me in reaching more lawyers.