October 2, 2017
Best Biz Dev Tips from Clio Conference Attendees [GWL 114]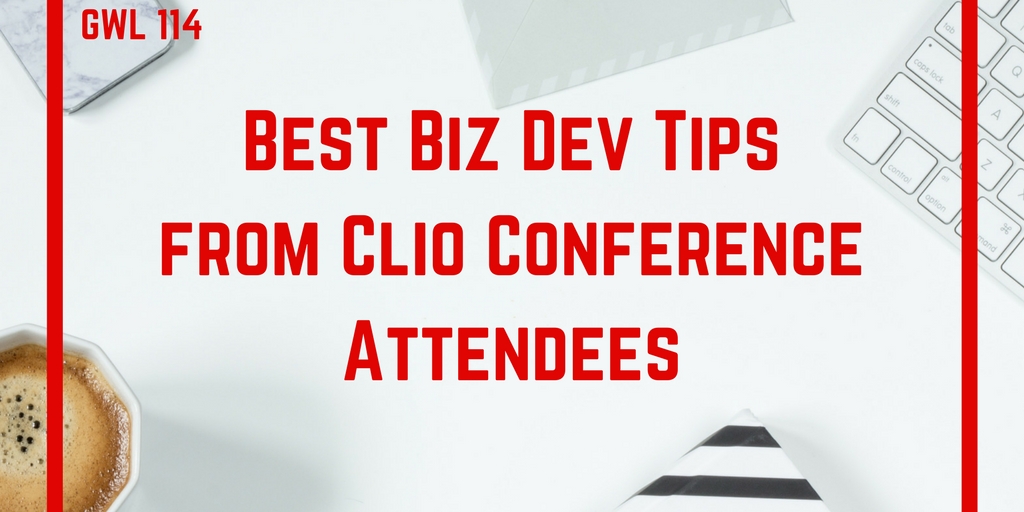 Between trying to remain calm before presenting at the Clio Cloud Conference and trying to enjoy the conference as an attendee, I managed to snag 4 short interviews with some of the attendees. The question I asked them? What is your best business development tip for getting your first client (or any client!)?
I was grateful that I recorded my quick chat with the following individuals who contributed their insight on this question:
Rehan Hasan, corporate attorney and business advisor
Julia Shapiro, Founder and CEO of Hire an Esquire 
Adam Callahan, One400
Paul Rummel, CTO of Vijilent
Prior Episodes mentioned in this Episode:
Julia Shapiro – Episode 62
Creativity – Episode 80
Thank you to our show sponsor
This episode is brought to you by MM.LaFleur, a women's workwear brand whose mission is to take the work out of dressing for work. Be sure to visit their website to experience their Bento Box service.
Thanks for Checking Out the Show Notes and for Listening!
I really hope you enjoyed this episode. I would really appreciate it if you shared this episode with a friend who could benefit from listening to this particular episode.
Also, please don't forget to subscribe to the GWL Podcast in Apple Podcasts or in Stitcher Radio. That way, every time I prepare a new episode for you, it'll automatically show up in your phone.
Once last thing: I would truly appreciate it if you could leave an honest review for The Gen Why Lawyer Podcast in Apple Podcasts. Positive ratings and reviews help boost the visibility of the show and help me in reaching more lawyers.