September 25, 2017
Taking 100% Responsibility for Your Happiness with Okeoma Moronu [GWL 113]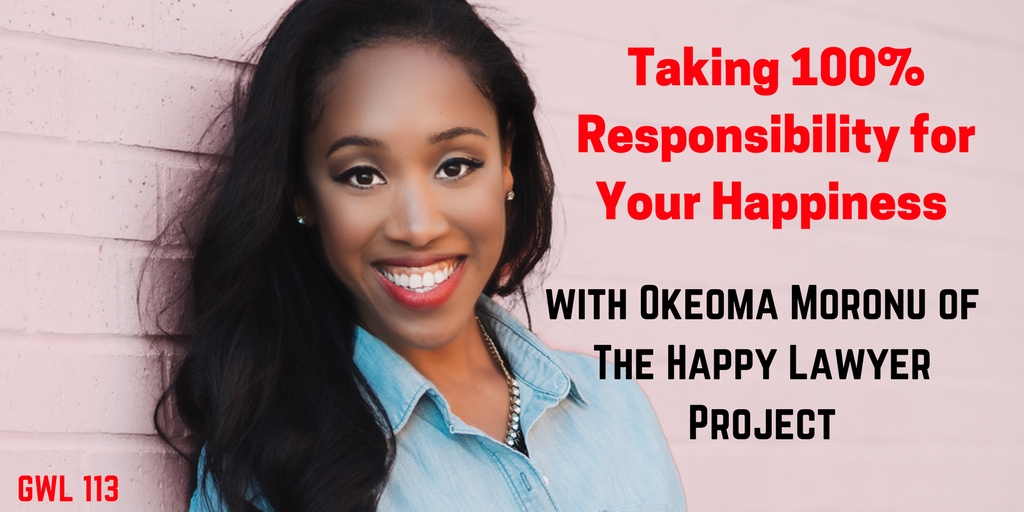 Is happiness an inside job? How can we, as lawyers, take responsibility for the choices we make that ultimately impact our level of happiness? Joining us this week is Okeoma Moronu, a young attorney and host of The Happy Lawyer Project Podcast where she explores this concept of happiness.
What You'll Learn
How she transitioned from BigLaw to in-house counsel
How she manages the pressures of being part of a small in-house legal team
Why she launched The Happy Lawyer Project Podcast
Why is it that lawyers are unhappy?
How can young lawyers figure out what it is they want and what they enjoy
How diversity in the profession all starts with being happy and feeling like we belong
What role her two children play in her decision making
How she was able to make it known that her family is a priority while interviewing for her position
Where her interest in personal finance stems from
Resources:
The Happy Lawyer Project Podcast
Instagram, Twitter, and Facebook: @thehappylawyerproject
Thank you to our show Sponsor!
This episode is brought to you by MM.LaFleur, a women's workwear brand whose mission is to take the work out of dressing for work. Be sure to visit their website to experience their Bento Box service.
Thanks for Checking Out the Show Notes and for Listening!
I really hope you enjoyed this episode. I would really appreciate it if you shared this episode with a friend who could benefit from listening to this particular episode.
Also, please don't forget to subscribe to the GWL Podcast in Apple Podcasts or in Stitcher Radio. That way, every time I prepare a new episode for you, it'll automatically show up in your phone.
Once last thing: I would truly appreciate it if you could leave an honest review for The Gen Why Lawyer Podcast in Apple Podcasts. Positive ratings and reviews help boost the visibility of the show and help me in reaching more lawyers.