September 18, 2017
How to Nurture Your Connections and Get Referrals with Lou Shapiro [GWL 112]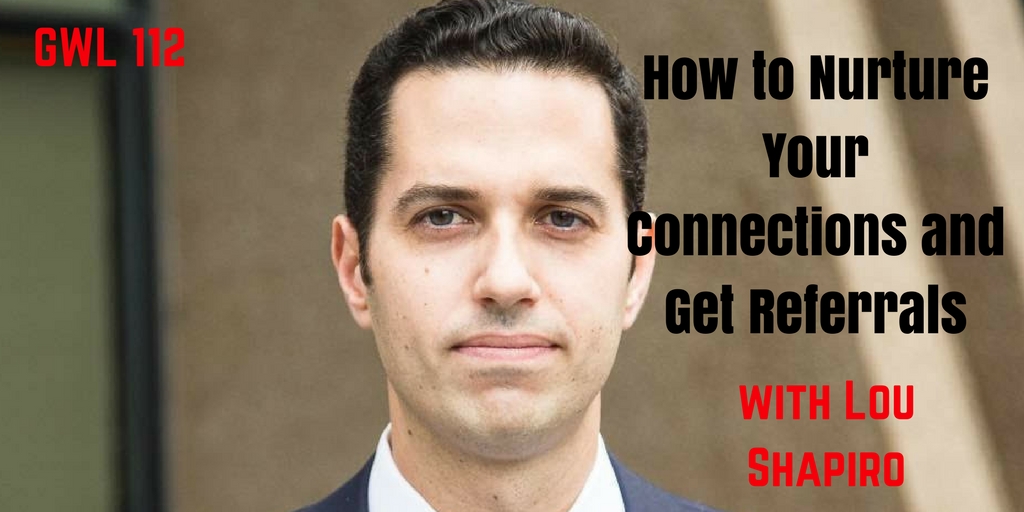 If you're wondering how to make the best use of your connections, then my guest today, Lou Shapiro, will certainly shed some light on how to go about doing that. Lou is a state and federal criminal law attorney, and he is a master at making friends online and offline and nurturing those relationships into referrals and opportunities.
What You'll Learn:
What experience is needed in order to eventually open your own practice as a criminal defense attorney
Why he considers his firm to be a "concierge law firm"
Where he gets his best referrals from other lawyers
What exactly he posts on Facebook to invite conversations and generate attention
How his involvement in his volunteer work at his temple led to a spot as a legal consultant on a tv legal comedy
How he managed to secure Amanda Knox as a speaker for his local bar association
The right way to stay in contact with people that you meet
Why he's waiting for the case that "defines" him
Why you don't need to experience every area of law in order to find out what you truly love
Contact info:
Email: lousijshapiro@gmail.com
Thank you to our sponsor!
This episode is brought to you by MM.LaFleur, a women's workwear brand whose mission is to take the work out of dressing for work. Be sure to visit their website to experience their Bento Box service.
Thanks for Checking Out the Show Notes and for Listening!
I really hope you enjoyed this episode. I would really appreciate it if you shared this episode with a friend who could benefit from listening to this particular episode.
Also, please don't forget to subscribe to the GWL Podcast in iTunes or in Stitcher Radio. That way, every time I prepare a new episode for you, it'll automatically show up in your phone.
Once last thing: I would truly appreciate it if you could leave an honest review for The Gen Why Lawyer Podcast in iTunes. Positive ratings and reviews help boost the visibility of the show and help me in reaching more lawyers.