September 11, 2017
Working with YouTubers and Creating Your Own Opportunities with Franklin Graves [GWL 111]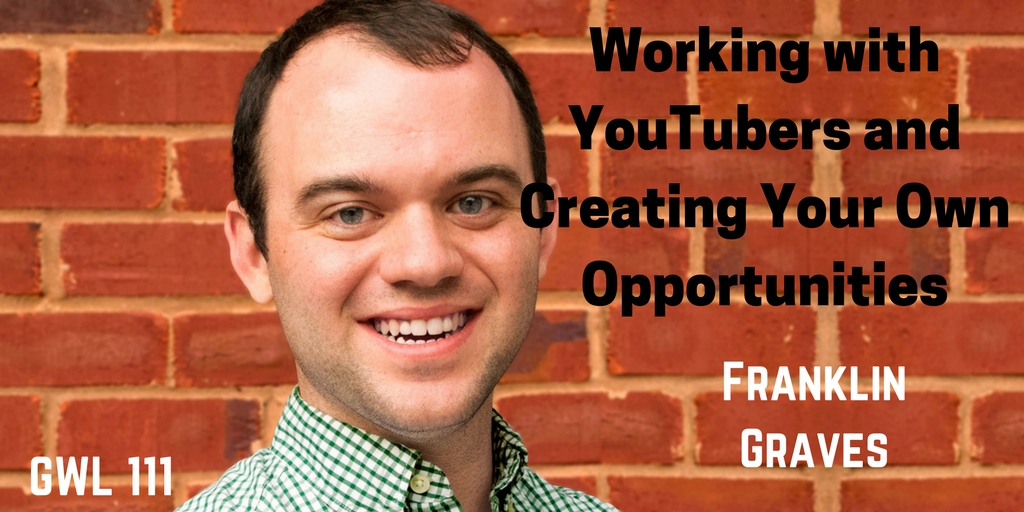 With internet creators becoming more and more popular in today's YouTube-crazed world, wanting to become a lawyer who serves the needs of this group of people is a viable career path. That's why I reached out to my friend Franklin Graves, General Counsel for Naxos Music Group. Franklin is immersed in the world of internet creators and YouTubers and is a content creator himself. He creates content to help educate creators of the legal side of digital content.
What We Discuss:
How he networked the smart way and made the most of his connections to land his first job
Why it's important to get involved in a bar association's project instead of merely networking
How a trip to an ABA conference started him off on his branding journey
How an article he wrote for the ABA eventually led to an opportunity to speak on a panel at the massive video conference, VidCon
What drew him to wanting to create content on YouTube and for YouTubers
The importance of immersing yourself in the industry you wish to represent
Should lawyers create videos to market their law firms?
How to figure out what type of videos you should create for your firm
Resources:
Frankly Legal YouTube channel
Contact Information:
@franklingraves – Twitter, Instagram, Facebook
Thank you to our sponsor!
This episode is brought to you by MM.LaFleur, a women's workwear brand whose mission is to take the work out of dressing for work. Be sure to visit their website to experience their Bento Box service.
Thanks for Checking Out the Show Notes and for Listening!
I really hope you enjoyed this episode. I would really appreciate it if you shared this episode with a friend who could benefit from listening to this particular episode.
Also, please don't forget to subscribe to the GWL Podcast in iTunes or in Stitcher Radio. That way, every time I prepare a new episode for you, it'll automatically show up in your phone.
Once last thing: I would truly appreciate it if you could leave an honest review for The Gen Why Lawyer Podcast in iTunes. Positive ratings and reviews help boost the visibility of the show and help me in reaching more lawyers.