September 4, 2017
Law in Pictures with Legal Cartoonist and Writer Wela Quan [GWL 110]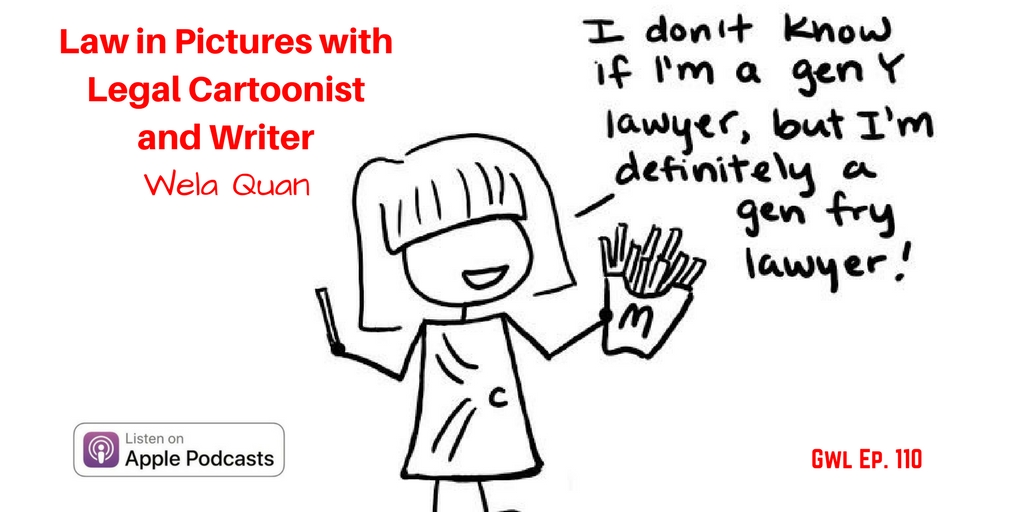 Wela Quan is a New York corporate lawyer-turned-legal cartoonist and writer.
What We Cover:
How she made the decision to leave her corporate job after 2 years
How she tapped into her childhood passions to begin writing and drawing
Why she wants to eliminate legalese and legal jargon
Wela explains her writing and drawing process
Why doesn't consider herself to be an "artist"
Why she's not in a hurry to buy a house and instead, wants to travel right now
Why she rejected a job offer from Hooters in Singapore
Resources Mentioned:
New York Bar Picture Book
Contact Info:
http://www.nybarpicturebook.com
Email: wela@nybarpicturebook.com
Thank you to our sponsor!
This episode is brought to you by MM.LaFleur, a women's workwear brand whose mission is to take the work out of dressing for work. Be sure to visit their website to experience their Bento Box service.
Thanks for Checking Out the Show Notes and for Listening!
I really hope you enjoyed this episode. I would really appreciate it if you shared this episode with a friend who could benefit from listening to this particular episode.
Also, please don't forget to subscribe to the GWL Podcast in iTunes or in Stitcher Radio. That way, every time I prepare a new episode for you, it'll automatically show up in your phone.
Once last thing: I would truly appreciate it if you could leave an honest review for The Gen Why Lawyer Podcast in iTunes. Positive ratings and reviews help boost the visibility of the show and help me in reaching more lawyers.