March 9, 2015
Why a Fashion Law Attorney and Fashion Blogger Decided to Go on The Amazing Race with Jenny Wu [GWL 04]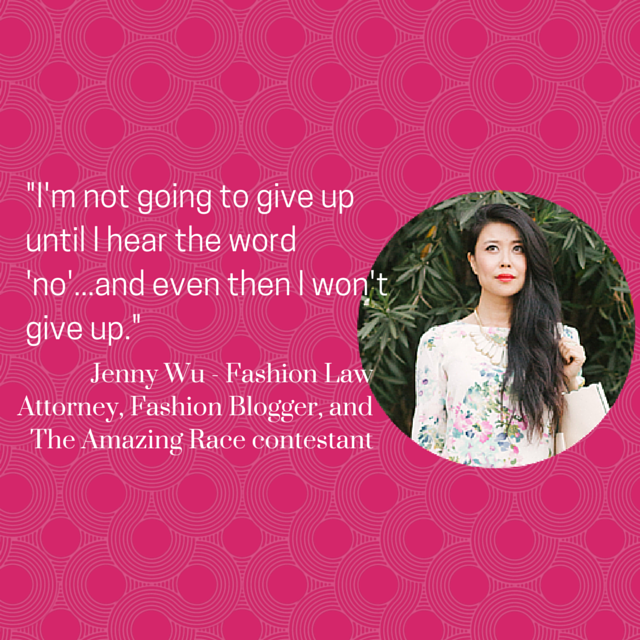 Podcast: Play in new window | Download | Embed
Subscribe: Apple Podcasts | Android | RSS
Los Angeles Attorney, Jenny Wu, has taken her practice of Fashion Law to the next level! She channels her passion for the fashion industry into a profitable fashion and lifestyle blog called Good, Bad, and Fab. Not one to be limited by boundaries, Jenny became a contestant on the current season of The Amazing Race, where she gets to race around the world on tv.
Show Notes
Never rule out any possibilities because the "what-if's" are out there. If you don't go to an event, you're closing the door on that what-if.
Fashion law sounds glamorous but at the heart of it, it's intellectual property and transactional work.
People who understand what fashion law, understand that what we do is facilitate the legal matters that every fashion company comes across.
Being able to advocate for your client and protect your client's intellectual property is the best part of the job because intellectual property is so important for a fashion brand.
If you're still in law school and thinking about practicing fashion law, take courses like IP, contracts, entertainment law, privacy law, and media law. Meet as many people as possible through networking, especially if you live in places where fashion is prominent. If you don't live in those areas, send out emails and try to set up phone interviews with people in the industry.
The blog, Good, Bad and Fab, came about as a way of expressing what Jenny loved about fashion.
The monetization of the blog happened organically. As readership increased, brands approached her to work with her and at first, they paid her in shoes and bags and then it turned into actual money.
Her blog isn't just a means for creative outlet, Jenny considers herself an entrepreneur and runs her blog like a business.
She is not alone in seeking a creative outlet – a lot of lawyers crave something more, something more fulfilling than the work they have to do as lawyers.
Recommended Reading:
Meg Wolitzer – The Interestings: A Novel
 (Affiliate Link*)
Sylvia Plath – The Bell Jar (Modern Classics)
 (Affiliate Link*)
General Pearls of Wisdom:
They say it's important to dream big and follow your dreams. I say it's important to follow through.
Whatever it is you need to do, do it now. Life is so short. Life is a race. Let's make it as amazing as we can by doing what it is that we want to do to make sure that our dreams come true.
 Jenny's Contact Information:
Website: http://www.goodbadandfab.com/
Email: jenny@goodbadandfab.com
Thanks for Checking Out the Show Notes and for Listening!
I really hope you enjoyed this episode. It was certainly a great experience for me.
If you feel like you just can't keep the excitement you feel for this episode to yourself, please share it using the social media buttons you see at the bottom of the post.
Also, please don't forget to subscribe to the GWL Podcast in iTunes or in Stitcher Radio. That way, every time I prepare a new episode for you, it'll automatically show up in your phone.  No Fear Of Missing Out here.
Once last thing: I would truly appreciate it if you could leave an honest review for The Gen Why Lawyer Podcast in iTunes. Positive ratings and reviews help boost the visibility of the show and help me in reaching more young lawyers.
*Disclosure:  Please note that the link above is an affiliate link, and at no additional cost to you, I will earn a commission if you decide to purchase this book for your reading pleasure.